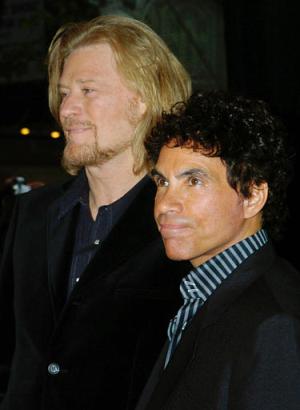 The boys receive their induction into
the Songwriters Hall of Fame!
A little bit of Philadelphia soul comes to Kissimmee
John Oates reflects on 30 years of Hall & Oates
18 Jun 2004
By Peter Covino News-Gazette Entertainment Editor

After more than 30 years, the passion for music still burns in John Oates' heart.

On the eve of the latest Hall & Oates tour, with special guest Michael McDonald, Oates reflected back on the current state of the music industry and considered just how fortunate he and Daryl Hall have been through the years starting with their musical roots back in Philadelphia.

"The music industry is a dinosaur, waiting to die," said
Oates. "I don't want to sound like a bitter, aging rock n' roll musician," but the current state of music in America is not good.

"The record companies have killed themselves," with the whole disposable attitude of music that exists today, he said.

And shows such as American Idol really don't help the cause because they don't help performers learn their craft.

"Andy Warhol got it right, except that the moment of fame is down to 30 seconds instead of 15 minutes," he said.

But that's their problem. Oates couldn't be happier that he and his longtime music collaborator and partner are about to embark on yet another musical tour.

The tour starts in Tampa June 23 and continues throughout the summer and early fall ending in California in October.

The Kissimmee stop is Friday, June 25. Oates said the show will include all of the duo's major hits, plus a separate show with former Doobie Brothers vocalist Michael McDonald.

Following the Hall & Oates performance and the one by McDonald, the trio is onstage together for an encore.

The concept isn't new for the duo.

"We toured with Todd Rodgren three years ago, and last summer we were with Kenny Loggins," said Hall.

The new concert, plus an album due out in September, finds Hall & Oates staying closer to their R&B roots, the sort of thing that made them famous back in the early days with Sara Smile.

That will work well with McDonald's current direction since he recently completed a Motown album.

It was actually R&B that got Hall & Oates together to begin with.

The duo had been appearing separately with different bands at a record hop in their old stomping grounds, Philadelphia, when some fans caused them to run into the same elevator for cover.

That chance meeting led to their musical involvement later.

These days, Hall calls Aspen, Colo., home. The famous locale has been home for the past 15 years.

The duo has sold more than 60 million records since they first began working together in the early 1970's and while most of their big hits were a few decades ago, they still hit the charts most recently in 2002 with Do It for Love.

They released Marigold Sky on their own label in 1997. The album Do It for Love, which also included the hit single, was released in 2002.

The new album is titled Our Kind of Soul. Hall said a few songs from the new CD will be featured on the concert tour.

Hall has also released a solo album, Phunk Shui, and a solo DVD called Live at the Historic Wheeler House.

The Kissimmee concert is at Osceola Heritage Park Friday, June 25, at 7 p.m. Also performing during the Saturday show will be The Average White Band. Tickets are on sale and available through the box office and via Ticketmaster.com. First price seating is $55 and second price seating is $40. The show is a Fantasma Production.