Joy Fisher
Age: 50 (eek!!)
Location: Suisun City, California
Email: CaDaisyJane@aol.com
Hall and Oates Faves:
Fave Song: Can't list just one...You've Lost That Lovin' Feeling, It's A Laugh, Something About You, Getaway Car, Oooh Child for a few :)
Fave Video: A&E Live By Request
Fave Concert: The Rock and Soul Revue, October 19th, 2004, Arco Arena, Sacramento, CA ~ my first H&O concert after all these years!!
Fave Album: Do It For Love
Fave Memory: Going to my first H&O concert, meeting Daryl and John and meeting up with online friends all in the same night ~ heaven!!

Learn more about Joy!
Have you met Hall and Oates? Yes, at the October 19th, 2004, concert at the Arco Arena I won passes for a meet/greet. After years of loving their music, I was finally seeing them in concert and meeting them all in the same night. I took a friend back with me and it was right before they were to go onstage. Daryl was a bit reserved until he started talking but John was very talkative from the start. Both were wonderful guys and they both really showed they cared for the fans...John was wanting to be sure we were enjoying the show so far, Daryl wanted to do "Me and Mrs. Jones" for us and felt bad because that he couldn't due to time constraints and they took their time and signed everything we brought...including our matching jeans jackets with Do It For Love patches on the left sleeve (Daryl made mention of our jackets LOL). The meet/greet went by fast but it was a time I will never forget and knowing what the guys are really like in person made me appreciate the wonderful show even that much more!! I'm already for the next concert!!

What is your favorite item in your collection and why?
"Along The Red Ledge" and "Voices" LPs, Jean Jacket and H&O Live In Concert CD as they are all autographed by Daryl and John.

What's a way you show your love for Hall and Oates?
Play their songs daily, buying their CDs and DVDs,see how many people I can convert into fans, meeting other fans and now seeing how many concerts I can get to :)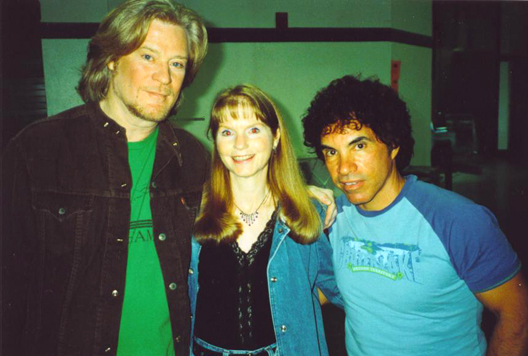 Joy gets a once-in-a-lifetime opportunity!