Reese Crane
Age: 39
Location: Harrisburg, Pennsylvania
Email: phillymood@comcast.net
Hall and Oates Faves:
Fave Song: Philly Mood (I know it's a solo thing but what can I say, I can't pick just one!)
Fave Video: Rock and Soul Tour, I went to a million of them so I figured save the gas, get the video!
Fave Concert: Metron, Harrisburg, PA 1989 2 dollars and what a great freakin' night, did lots of Motown stuff. Although I was at Daryls' solo concert at Keswick in January 2004 and that was incredible.
Fave Album: Ooh Yeah (although I love all their stuff from Whole Oats until now) because they kind of returned to their roots in that album and it was a very impressive release...for me, at least.
Fave Memory: 1983 Rock and Soul concert, sold out show in Hershey, graduation year for me from High School. Made a bet with another fan that they would open with Family Man, she said Kiss on My List and I won. Us kids.

Learn more about Reese!
Have you met Hall and Oates? Yes at last Rock and Soul Revue Tour 2004 in Hershey with Michael McDonald and AWB. Almost fainted. I couldn't believe I was "so close" to my icons of years. Ever since 6th grade and Rich Girl, I was captivated by the sound and chose to pursue music as a career because of them. I got to share that info with them. Fortunately I'm a jock with a local radio station that plays their music and so I thoroughly finagled my way into meeting them. What a perc!

What is your favorite item in your collection and why?
My most current and only autograph section of local newspaper for their concert and pictures with them along with tickets. Soon to be displayed in a frame.


What's a way you show your love for Hall and Oates?
I try and emulate his style when singing. I have been in music for years, performing and recording, finding my way and all that...but Daryl Hall always seems to be a sort of muse in inspiring me to write better and more soulful. I love the blue eyed soul sounds of Hall and Oates and have worked hard to sing like Daryl (not perfect or anything) but I always gravitate toward that style.
I am thankful that God allowed these two to find each other in that elevator and release such powerful soul filled music to us. There's not much left of the true soul to soul music out there. I hope they keep punching out the stuff as long as they possibly can. By the way, believe it or not, I'm the male and that's my fiancÚ with the red hair.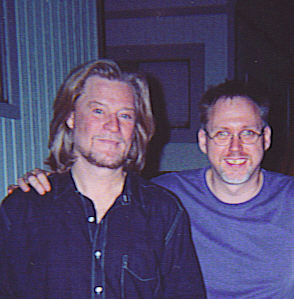 Reese had a once in a lifetime experience!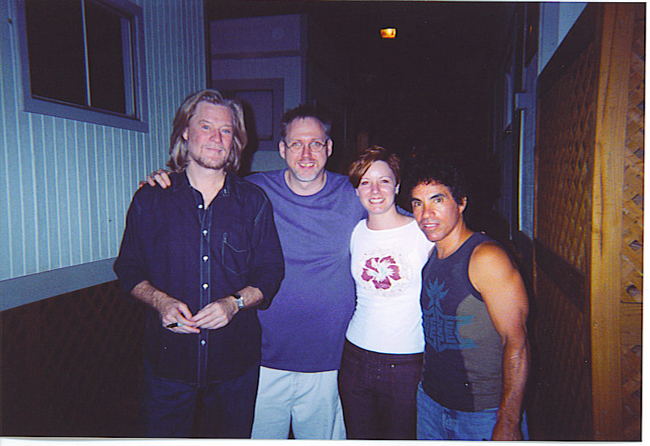 There's the whole group!
Maybe they will make a new band! =)